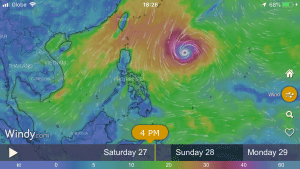 "Typhoon Yutu" is on its way coming near to Luzon.
It is predicted to land around 2018.10.30 and staying until 2018.11.1~2.
* It might change its direction to North East.
It is reported the typhoon is even stronger than the previous one (Ompong). 
---
1. Cancelation of classes
We might have to CANCEL classes on either 
-Oct. 30
-Oct. 31
-Nov.2
*If we cancel 2 days, there would be a make up class on Nov 10 (Sat.)
*Students need to follow school's schedule regardless of their duration or arrival date.
2. Blackout
A few days blackout is predicted and students would not be able to take hot shower, charge their phones and use Wi-Fi…
* We will use a generator to school area.
3. Meal service
We are planning to serve meal normally. However, if kitchen staffs might not be able to commute, simple menu would be served.