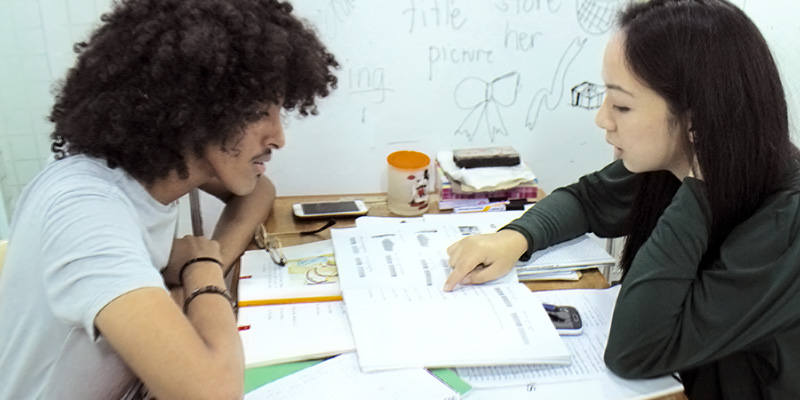 ESL PROGRAM
This course is the primary foundation of all the advancing programs.
WALES has 3 type ESL Course ( ESL FLEXIBLE, ESL and Real-Talk ESL ). Students can choose programs according to the goals of each.
*Caters to nine (9) levels of students' competency from D to S.
The classes are designed to help students understand the basic concepts of language.
Reinforces students' knowledge before advancing to other programs.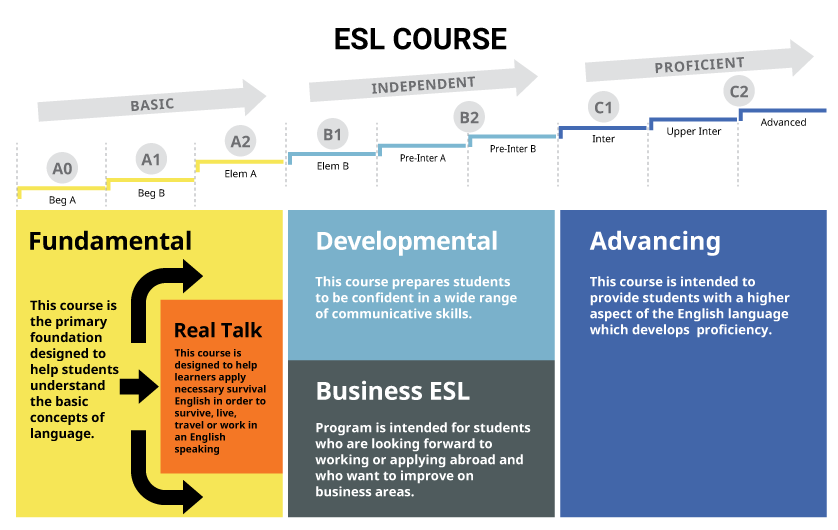 ESL FLEXIBLE Course

Total Class: 5 Classes a Day   


5 Classes / 1:1 Class

1:1 Classes


Speaking, Listening, Reading and Vocabulary,Writing and Grammar, Discussion
Subject
Cluster
Description
Reading and Vocabulary
1:1 Class
Students will learn vocabulary words which will help them to easily comprehend with the passages and widen their lexical resources.
Speaking
This aims to boost students' confidence in having conversation with different people. They will learn basic expressions used and pronunciation.
Discussion
This subject encourages the student to express their ideas about a certain topic. This helps them broaden their horizon.
Writing and Grammar
Students will learn grammar concepts which are useful in their speaking and writing. Also, they will learn how to write a meaningful, organized and coherent essay.
Listening
This aims to help students develop their listening skills with the use of different materials with varied accents.
ESL Course

Total Class: 8 Classes a Day   


6 Classes / 1:1 Class

+

2 Classes / Group Class

1:1 Classes


Speaking, Reading, Writing, Grammar, Vocabulary, Pronunciation

Group Classes


Listening, Discussion
Subject
Cluster
Description
Speaking
1:1 Class
This helps students demonstrate effective use of proper vocabulary and expressions, grammar, and sentence structure allowing accurate communication.
Reading
This helps students build effective reading skills. It focuses on reading comprehension, vocabulary development, and reading speed.
Writing
This is intended for students who want to become effective writers. It emphasizes on sentence structures, paragraph organization, and grammar. It helps students have a structured approach to writing and acquaint them with its process.
Grammar
This helps students understand the concepts and be able to apply them correctly in sentence construction.
Vocabulary
This focuses on strengthening the students' usage and understanding of idiomatic expressions.
Pronunciation
This is designed for students to familiarize themselves with and learn to produce English phonemes.
Listening
Group Classes
This is designed to develop listening skills and give appropriate answers to given listening contexts. It aids students understand and respond appropriately to various speakers. It also helps them to understand and discuss ideas delivered from the context of the audio.
Discussion
Designed for students to be articulate in conversations and oral presentations using clear organized ideas and supporting evidences. It helps students convey ideas clearly with proper pronunciation which allows for overall intelligibility.
Business ESL

Level 4: Elementary B
Level 5: Pre-Intermediate A
Level 6: Pre-Intermediate B
Subject
Cluster
Description
Business Vocabulary
1:1 Class
It equips students with the general business vocabulary.
Pattern and Opinion
It encourages students to become more fluent with the English language with the use of different structures and approaches in speaking.
Presentation
It encourages students to communicate effectively with coherent organization of information.
Correspondence
It is intended to help students become familiar with the business letter format and structure.
Article Reading
It helps students to become familiar with various reading articles from different materials newspapers and magazines.
Telephoning
Designed to help students develop the ability and confidence to communicate comfortably and effectively in English on the telephone.
Listening
Group Classes
Getting familiar with different speakers is the aim of this subject. It also teaches students to identify details from the audio.
Grammar
This aims to provide students the basic concepts of grammar which are applicable to both writing and speaking.
Real-Talk ESL Course

Total Class: 7 Classes a Day   


4 Classes / 1:1 Class

+

3 Classes / Group Class

1:1 Classes


Pronunciation, Phone call, Vocabulary, Writing, Expression (Monday+Wednesday), Practice (Tuesday+Thursday)

Group Classes


Role play (Monday+Wednesday), Video analysis (Tuesday +Thursday), Outside (Friday), Presentation (Friday)
ESL course 1 day schedule example

| | |
| --- | --- |
| 06:30 | Getting up |
| 07:00 – 07:30 | Breakfast |
| 08:00 – 08:45 | 1:1 Class |
| 08:55 – 09:40 | Group Class |
| 09:50 – 10:35 | 1:1 Class |
| 10:45 – 11:30 | Break time |
| 11:40 – 12:25 | Lunch |
| 12:35 – 13:20 | Group Class |
| 13:30 – 14:15 | 1:1 Class |
| 14:25 – 15:10 | 1:1 Class |
| 15:20 – 16:05 | 1:1 Class |
| 16:15 – 17:00 | 1:1 Class |
| 17:10 – 17:50 | Break time |
| 17:50 – 18:50 | Dinner |
| 19:30 – 22:00 | Self study |
| 23:00 | Going to bed |