FAMILY PROGRAM
AIM: To attain a family bond while studying.
Goals : 1) To cater and assist the basic language needs for communication
    2) To teach specific needs for each parent and kid.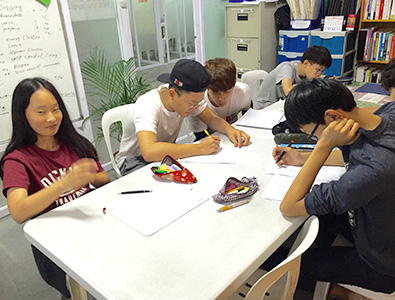 FAMILY Course

WALES accepts studying abroad of families throughout the year. We'll promise that families can fully enjoy in Baguio life with the class system that be consider for parents and in a luxurious facility.
Junior Course
Junior *Depending on the student's age, test modules are available such as IELTS, TOEFL and TOEIC.
*Group Class: Groupings are based on students' level test results.
Parents Course
While a child is taking classes, parents can choose "any of the above courses" or "no class".
Care system: In case of illness / injury, our staff will accompany the hospital.


*We have no babysitter service, so parents need take care for own children.
FAMILY COURSE DESCRIPTION
Subject
Children
Parents
Course
Junior Course
Option
Duration
2-24 weeks
2-24 weeks
Dormitory
Condo Type
Cooking Posibility
Allow only in Condo Type
School Activity
Not Provide
Target age
7~15 years old
–
Nanny Service
–
–
Nursery or
Kindergarten
– 
– 
JUNIOR ESL

Total Class: 8 Classes a Day 


6 Classes / 1:1 Class

+

2 Classes / Group Class

* 7 to 15 year old students can be accepted to study.
* 9 (international age)-15 years old-Koreans

1:1 Classes


Speaking, Discussion, Reading, Writing, Vocabulary, Listening, Pronunciation

Group Classes


Listening, Pronunciation
Subject
Cluster
Description
Grammar
1:1 Classes
Basic grammar and sentence structure.
Writing
Sentence and paragraph construction.
Reading
Basic reading skills for comprehension and fluency.
Vocabulary
Word building activities.
Speaking 1
Conversation topics and expressions.
Speaking 2
Giving opinions about certain topics.
Listening
Group Classes
Basic listening skills for comprehension.
Pronunciation
Accent reduction and familiarization through IPA.
JUNIOR IELTS

Total Class: 7 Classes a Day 


7 Classes / 1:1 Class

* 12 to 15 year old students can be accepted to study.
* Required Band Score: 4

1:1 Classes


Writing Task 1, Writing Task 2, Listening, Reading, Speaking, Discussion, Grammar
Subject
Cluster
Description
Writing Task 1
1:1 Classes
Introduction to graphs/charts/map/process interpretation.
Writing Task 2
Introduction to one and two-sided opinions.
Listening
Detailed approach to IELTS Listening skills and structure.
Reading
Detailed approach to IELTS Reading skills and structure.
Speaking
Detailed approach to IELTS Speaking skills and structure.
Discussion
Brainstorming of ideas using IELTS Writing and Speaking materials.
Grammar
Learn and practice advanced grammar for IELTS.
Junior ESL 1 day schedule example

| | |
| --- | --- |
| 07:30 | Getting up |
| 07:45 – 08:30 | Breakfast |
| 08:55 – 09:40 | 1:1 Class |
| 09:50 – 10:35 | 1:1 Class |
| 10:45 – 11:30 | 1:1 Class |
| 11:40 – 12:25 | Lunch |
| 12:35 – 13:20 | 1:1 Class |
| 13:30 – 14:15 | Break time |
| 14:25 – 15:10 | 1:1 Class |
| 15:20 – 16:05 | 1:1 Class |
| 16:15 – 17:00 | 1:1 Class |
| 17:00 – 17:50 | Break time |
| 17:50 – 18:50 | Dinner |
| 19:30 – 21:00 | Self study |
| 22:00 | Going to bed |