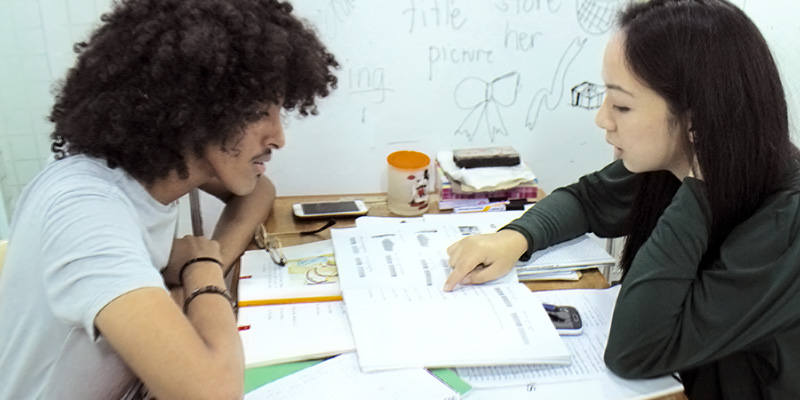 ESL PROGRAM
이 과정은 모든 고급과정을 준비하기 위한 가장 기초적이고 중요한 과정 입니다.
웨일즈어학원 ESL과정은 총 3가지로 구분되어 있습니다 ( ESL FLEXIBLE, ESL, Real-Talk ESL ). 학생들은 각자 목표와 성향에 따라 프로그램을 선택할 수 있습니다.
*레벨 D 에서 S 까지 총 9단계 레벨을 제공합니다.
이 과정은 학생들에게 영어의 기본 개념을 이해시키기 위하여 디자인 되었습니다.
다른 과정을 배우기 전에 학생들에게 영어 기본 집중 과정을 제공합니다.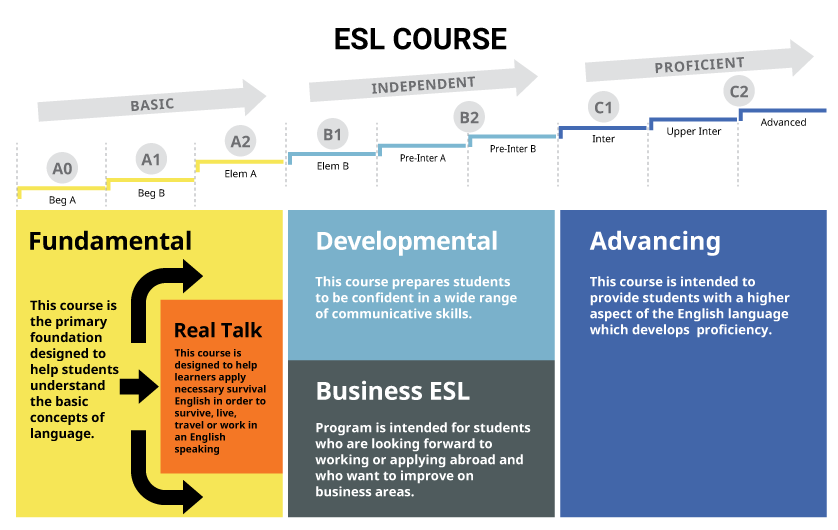 ESL FLEXIBLE Course

총 수업시간: 5 시간/일  


5 시간 / 1:1 수업

1:1 수업


Speaking, Listening, Reading and Vocabulary,Writing and Grammar, Discussion
제목
클러스터
내용
Reading and Vocabulary
1:1 수업
학생들은 문장을 쉽게 이해하고 소통할 수 있는 어휘를 배우게 됩니다.
Speaking
의사소통에 대한 자신감을 높이고, 기본 표현과 발음을 배우도록 하는 것을 목표로 합니다.
Discussion
이 과정은 학생들에게 주어진 주제에 관한 아이디어를 표현하고 토론에 의하여 자신들의 생각을 정확하게 표현할 수 있도록 공부하는 과정 입니다.
Writing and Grammar
Students will learn grammar concepts which are useful in their speaking and writing. Also, they will learn how to write a meaningful, organized and coherent essay.
Listening
This aims to help students develop their listening skills with the use of different materials with varied accents.
ESL Course

총 수업시간: 8 시간/일


6 시간 / 1:1 수업

+

2 시간 / 그룹수업

1:1 수업


Speaking, Reading, Writing, Grammar, Vocabulary, Pronunciation

그룹수업


Listening, Discussion
Subject
Cluster
Description
Speaking
1:1 수업
This helps students demonstrate effective use of proper vocabulary and expressions, grammar, and sentence structure allowing accurate communication.
Reading
his helps students build effective reading skills. It focuses on reading comprehension, vocabulary development, and reading speed.
Writing
This is intended for students who want to become effective writers. It emphasizes on sentence structures, paragraph organization, and grammar. It helps students have a structured approach to writing and acquaint them with its process.
Grammar
This helps students understand the concepts and be able to apply them correctly in sentence construction.
Vocabulary
This focuses on strengthening the students' usage and understanding of idiomatic expressions.
Pronunciation
This is designed for students to familiarize themselves with and learn to produce English phonemes.
Listening
그룹수업
This is designed to develop listening skills and give appropriate answers to given listening contexts. It aids students understand and respond appropriately to various speakers. It also helps them to understand and discuss ideas delivered from the context of the audio.
Discussion
Designed for students to be articulate in conversations and oral presentations using clear organized ideas and supporting evidences. It helps students convey ideas clearly with proper pronunciation which allows for overall intelligibility.
Real-Talk ESL Course

총 수업시간: 7 시간/일


4 시간 / 1:1 수업

+

3 시간 / 그룹수업

1:1 수업


Pronunciation, Phone call, Vocabulary, Writing, Expression (Monday+Wednesday), Practice (Tuesday+Thursday)

그룹수업


RolE play (Monday+Wednesday), Video analysis (Tuesday +Thursday), Outside (Friday), Presentation (Friday)
ESL course 1 day schedule example

| | |
| --- | --- |
| 06:30 | Getting up |
| 07:00 – 07:30 | Breakfast |
| 08:00 – 08:45 | 1:1 수업 |
| 08:55 – 09:40 | 그룹수업 |
| 09:50 – 10:35 | 1:1 수업 |
| 10:45 – 11:30 | Break time |
| 11:40 – 12:25 | Lunch |
| 12:35 – 13:20 | 그룹수업 |
| 13:30 – 14:15 | 1:1 수업 |
| 14:25 – 15:10 | 1:1 수업 |
| 15:20 – 16:05 | 1:1 수업 |
| 16:15 – 17:00 | 1:1 수업 |
| 17:10 – 17:50 | Break time |
| 17:50 – 18:50 | Dinner |
| 19:30 – 22:00 | Self study |
| 23:00 | Going to bed |