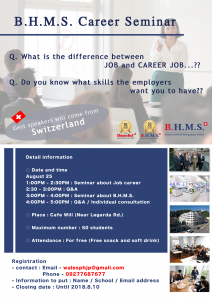 B.H.M.S. is going to hold a seminar about job career and give details about B.H.M.S.  for those who are in Baguio, Philippines!! This university is widely known as one of the top which conducts hospitality management major (such as hotel, restaurant and so on)
This is a once in a lifetime opportunity to join a seminar and even have conversation with personnel  from B.H.M.S. while you are in Baguio
Contents of the seminar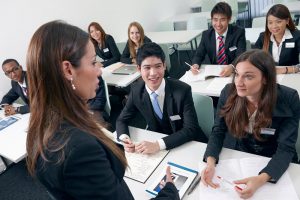 There are two guest speakers who will be joining from Switzerland. A Korean marketing manager who mainly manages Asian market and  an Italian marketing director who manages the whole international market.
◇ What is the difference between  "JOB" and "CAREER JOB"…?
◇ What mind-set and skills do Employers worldwide look for…?
◇ proper decisions to be made in order to build a career while educational system is changing all over the world
◇ situation of recruitment which can be seen from other country 
As above, the seminar is going to be presented with important contents which is great for those who plan to work abroad or to get in similar situations.
The seminar consists of 2 parts. The latter part is about B.H.M.S. and going to hospitality university. If you are considering to enter hospitality industry, this detailed session would be helpful for you.
◇ Explanation about B.H.M.S. and hospitality management
◇ Detailed information about b.h.m.s. program
There is also a remarkable part which is planned to be held only in this  seminar
◇ Individual consultation
This is a necessity if you want to converse with personnels from B.H.M.S. while you are in the Philippines.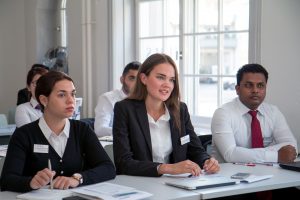 Privilege for participants only
CHF4,000 DISCOUNT from Tuition fee
This can be applied to those who will register in B.H.M.S. on that day.
※CHF4,000=Around USD4,000(2018.8.9)
※Price might fluctuate depending on courses.
Seminar information
Date:2018.8.25
Time:13:00~17:00
Limit:Maximum 50 participants
Attendance fee : For free
Place:Cafe Will
How to register the seminar
Please send message to walesphjp@gmail.com with your Name, School name and E-mail address.