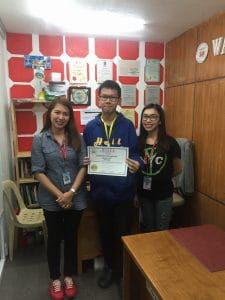 Student information:
– Name: Crucian
– Nationality: Chinese
– Gender: Female
– Program: IELTS
– Duration: 4 weeks
First of all, I wanted to improve my English skills to talk with native English speakers better. Secondly I want to have a higher English score in IELTS exams. Then I can enroll a good university.
I came to WALES last year to study and have a positive feedback that's why I decided to come back and my mother can also accompany with me.
My greatest progress is speaking skill. I can speak English better than before. And I can take IELTS course now. It's another progress.
The lessons in WALES are great because there are many things I can learn everyday. I feel good in classes. Teachers are so friendly so I get along with my teachers.
If you want to study abroad, you can study in a language school first because it is good for you to improve your listening, speaking, reading and writing skills faster than you expect.
Don't be shy when you are speaking, just go ahead. If you make mistakes, your teachers will fix them for you.